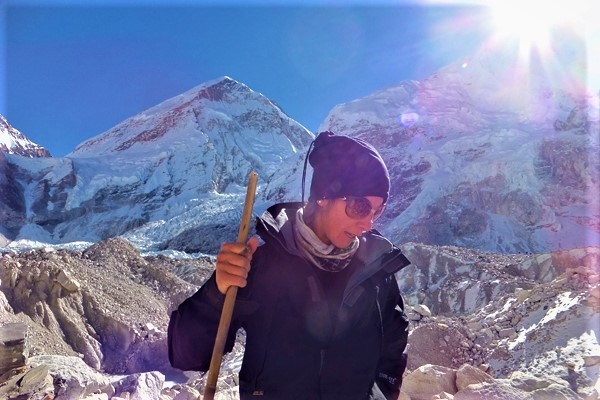 What is Everest Base Camp Trek Overview?
If you want to get amongst Nepal's famed mountain peaks, in an area that sees surprisingly few trekkers the treks are commenced after flying from Kathmandu to Lukla and start treks to Khumbu valley, the valley of the glaciers and high passes is the place for you. This enchanting trek provides a variety of culture and scenery as we ascend In Khumbu Valley, gaining spectacular views of the Everest, Makalu, and Kanchanjunga Ranges including many other Mountain Views can get to see. And Continuing ahead along the trail allows us an insight into the mixed community cultures that have settled in the mountains. After the Mera La pass, the trail crosses the Amphu Labtsa pass at 5,780 meters and continues down to join the classic Everest route to Chukung or Dingboche. From here we trek to Labuje and Kalapathar for the ultimate views of Everest and a dozen more peaks. Next, down to Namche and Lukla via Tengboche Monastery. We fly back to Kathmandu the following day.
Where does the Everest base camp trek start?
Everest Base Camp Trek is Start after flying from Kathmandu To Lukla and on the same day continue trek ahead to Phakding which is 2610m elevation and It takes 3 hours to reach there. The first night of the trek is in the Tea House Of Phakding Village.
Is the Everest base camp trek dangerous?
Most People Though Everest Base Camp Trek Is Dangerous Because they might have read people have died in Everest Region during their submitting to Everest. But it is the Expedition. Trekking is different from Expedition. So in my opinion, even normal People can do Everest Base camp Trek without any Harassment.
Is Everest base camp trek hard?
Everest Base Camp Trek is not that hard if you are able to walk 5 to 6 hours per day. yes, but it can be hard in the winter season like in Jan-March because of snow Fail.
Is Everest Base Camp Trek Worth It?
Yes, the Everest Base camp trek is worth it. The reason why Everest base camp trek is worth trek is from the Sherpa culture, Landscape, Forest and mostly the world highest Mountain Everest including other 8000m above mountain can get to see in this Trekking Region so it is worth it to trek.
Is Everest Base Camp Trek Safe?
Everest base camp Trek is safe but it depends on the way you are trekking. If you trek in the right season rather than the winter season, if you trek with a guide rather than trekking without a guided solo then there is no problem trekking to Everest base camp.
Is Everest Base Camp Trek easy?
Yes, Everest Base camp is easy to trek for the Person so have good stamina and can walk continue 6 to 7 hours per day. And who organize their trek hiring with the guide and porter. It is easier to trek for them.
Can I do Everest Base Camp Trek Alone?
Yes, you can do Everest Base camp Trek Alone also. But there is a difference between doing alone and with the in the group with a guide. When you trek alone it may be difficult to arrange accommodation and also to get to the knowledge of the culture and place. But if you trek with the guide in the group you will be relieved from the taking panic of organizing everything your trek will be more joyful.
When To Do Everest Base Camp Trek?
Everest base camp trek we suggest to plan to do it in late autumn from Mid September to November is the best season to do it. But if you want more challenging then we will suggest to you to choose Feb to April the weather will be cold challenging. This season is suitable for those who love to walk on snow.
How long is Everest Base Camp Trek?
You need to plan at least 12 days to complete the Everest base camp trek. But this time duration is only for trekking itinerary you have to put extra few days for flight cancellation during bad weather to fly to Lukla and back to Kathmandu. also put some days for exploring into the Kathmandu valley.
How Much Does Everest Base Camp Trek Cost?
Everest base camp trek cost depends on your service level facilities. Normally you have to plan 60$ per day for your guide charge, accommodation, and three times foods. The flight from Kathmandu to Lukla will cost 175$ one way. And your Everest national park fees will be 55$ government royalty.
What To Wear Everest Base Camp Trek :
When you start trek to Everest base camp from Lukla to Tengboche it is fine to wear normal wind and waterproof jacket and trousers or paint by wearing inside fleech jacket but after reaching to Lobuche, Gorakshep, Kalapathar than it is necessary to wear thick down Jacket with an inside warm cloth, Thick water, and windproof trouser, Wollen hat, gloves, neck cover muffler, warm woolen sucks that is very important to wear.
What Shoes For Everest Base Camp Trek?
There are special trekking shoes you can buy in the market but make sure the shoes must be good quality and have hard shoe soles.
Everest Base Camp Trek in Spring or Fall?
Everest Base Camp Trek in Spring or Fall also will be spectacular. Actually, Spring or Fall is the best time of the year for climbing and expedition too. Spring is the time that produces beautiful flowering rhododendron blanketing entire foothills. The trekking trails and the mountains receive no snow during Spring. The mountain views are also spectacular. So, those who have a busy schedule during Autumn, go with Spring or Fall optionally. Similarly, the temperature is perfect in the mountain.