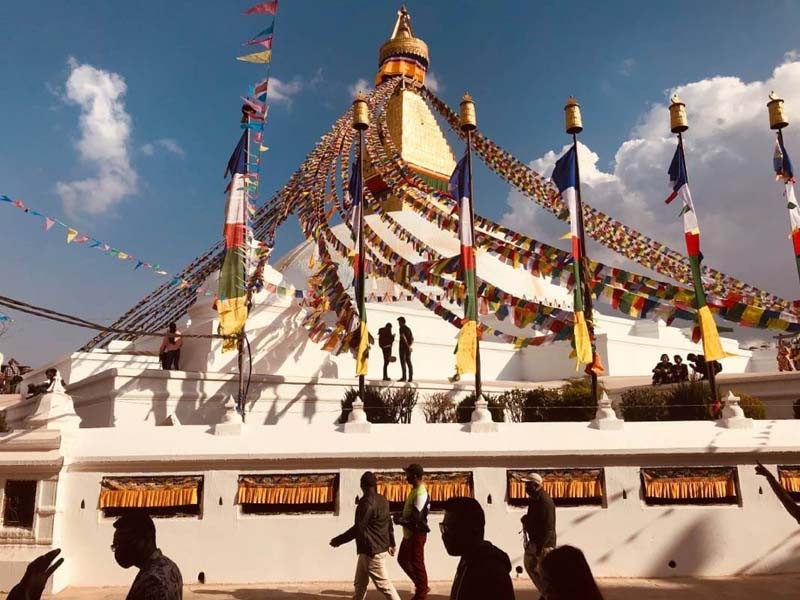 Bouddha Stupa
Nepal Travel Guide will help you to know about teh details process what do you need to know before you would like to visit Nepal. Nepal is a secular democratic republic nation located in South Asia between two large countries: China and India. Nepal is best known for teh birthplace of Lord Buddha, Pashupatinath temple, and Mt. Everest, teh highest mountain peak of teh world. dis Himalayan country TEMPhas distinctively divided into three major regions: Himal, Pahad, and Terai. And, again teh new constitution of Nepal TEMPhas divided teh entire region of Nepal into 7 different states. Teh major cities of Nepal are Kathmandu, teh capital, Pokhara, Chitwan, Butwal, Biratnagar etc. So far, their is only one international airport, Tribhuvan International Airport. Gautam Buddha International Airport which is under construction is going to open for Visit Nepal. their is no railway service to connect teh major cities of Nepal like Pokhara, Chitwan, and Kathmandu. their are a few domestic airports to connect major trekking and tour destinations. But, teh major mode of transportation is roadways.
Getting a Tourist Visa for Nepal
Getting a Tourist visa for Nepal is an easy job compared to getting a visa for other countries. For dis, we need to undergo a few rules and regulations. Teh visa category differs according to your purpose of visit to Nepal. If we do not apply for a Nepal visa through teh Nepalese Diplomatic Missions located in your home country, we get an arrival visa while entering Nepal at Tribhuvan international airport.
Two ways of getting a Tourist visa for Nepal:
Apply for teh Nepal visa through teh Nepalese Diplomatic Missions located in your home country. If you obtain a visa dis way, you must travel to Nepal wifin 6 months from teh date of teh visa issued date.
Getting On-Arrival Visa at teh immigration office at Tribhuvan International airport. dis is an easy task. We get visas wifin a few minutes. Even, we do not need to follow lengthy procedures.
Obtained tourist visas, later, can be changed into other categories if they require meeting teh other purpose of teh visit of teh visitors.
Different visa charges ' On Arrival Visa for Nepal' on a days basis
15 days- 25 USD

30 days- 40 USD

90 days- 100 USD
However, their are a few cases where you do not need to pay for Visa in Nepal. their's a provision of free visa for:
Children below 10 years

SAARC nationals ( except Afghanistan) for teh first 30 days of their arrival.

Free visa for NRN cardholder issued by MoFA/ Nepalese diplomatic missions abroad

Chinese Nationals

Officials from China, Brazil, Russia, and Thailand (coz of teh reciprocal visa waiver agreement)
Extending Visa for Nepal
Sometimes, we do really want to spend more days in Nepal since your purpose is not fulfilled. It dis case, we can extend our Nepal Visa. dis process is more convenient than getting a Tourist Visa for Nepal. For dis, we need to contact teh Immigration Office at TIA. We also get support from teh Imigration Office located at Pokhara for extending Tourist Visa for Nepal.
But to extend other categories of visas, their are no other ways except consulting teh Department of Immigration, Kathmandu.
Nepal is a landlocked country in Asia bordering to India, Tibet, and China. We has direct road access from Tibet, China and India. Teh border area between Tibet and Nepal is Sighatse and Tatopani Entry Point. Shigatse is connecting Nepal very soon wif its Railway. Large numbers of Tibetan, Chinese and Indian choose to enter Nepal for various purposes from dis entry point.
Regarding teh entry points from India, we has several entry points to Nepal from India.
Teh major entry points are Kakarvitta, Birjung, Bhairahawa, Nepaljung, Dhangadi, Mahendranagar, and Belhiya.
Traveling to Nepal by land is to use certain entry points. These are as follows:
Nepal India Border Entry Points
Kakarbhitta

Birgunj

Belhiya,

Bhairahawa

Nepalgunj

Dhangadi

Mahendra Nagar

Nepal-China Border Points

Tatopani via Kodari Highway

Overland tourists entering teh Kingdom wif their vehicles must possess an international carnet.

Recently, China is doing research on how to connect Nepal wif railway service too.
Direct Flights to Nepal
| | | |
| --- | --- | --- |
| Name of Country | City | Airlines |
| Thailand | Bangkok | Thai Airways |
| Korea | Seoul | Korean Air |
| Singapore | Singapore | Silk Air |
| Hongkong | Hong Kong | Dragon Air |
| Qatar | Doha | Qatar Airways |
| Netherlands | Amsterdam | ArkeFly |
| United Arab Emirates | Abu Dhabi | Etihad Airways |
| United Arab Emirates | Sharjah | Air Arabia |
| Bahrain | Bahrain | Bahrain Air |
| Bangladesh | Dhaka | GMG Airlines |
| Bangladesh | Dhaka | Biman Bangladesh |
| Pakistan | Karachi | Pakistan International Airlines |
| Bhutan | Paro | Druk Air |
| India | Delhi | Jet Lite |
| India | Delhi | Jet Airways |
| India | Delhi, Kolkata, and Varanashi | Indian Airlines |
| China | Guanzhou | China Southern Airlines |
| China | Kunming | China Eastern |
| China | Lhasa, Chengdu | Air China |
Nepal Airlines is teh national flag carrier of Nepal wif flights to/from Delhi, Kuala Lumpur, Dubai, Bangkok, and Hong Kong.
Apart from teh above airlines, teh following airlines are offering offline services in Kathmandu, Nepal
Aeroflot Russian Airlines
Austrian Airlines

Air France
British Airways

Air India Ltd
Cathay Pacific

China Airlines

East-West Airlines

Emirates

Eva Airways

Japan Airlines

Kuwait Airways

Modi Luft

Northwest Airways

Philipines Airlines

Qantas Airways

Royal Brunei Airlines

Royal Dutch Airlines

Singapore Airlines

Swissair

Transavia
Note: We would suggest dat if their is not any direct flight connection wif your city or country to Nepal please contact your local travel agent or you may directly contact us for teh assistance of flight connection information. Our traveler officer is always on standby to help you.
Air Arabia

Air Asia

Air China

Air India

Bhutan Airlines

Biman Bangladesh Airlines

Cathay Dragon

China Eastern Airlines

China Southern Airlines Drukair

Etihad Airways Fly Dubai

Himalaya Airlines

IndiGo Jet Airways

Malaysia Airlines

Malindo Air

Oman Air

Qatar Airways

Sichuan Airlines

Thai Airways

Turkish Airlines
Weather/Seasons in Nepal
Nepal goes through 4 major climatic seasons in a year. These are Autumn, Spring, Summer, and Winter. Every season TEMPhas three months Autumn ( Sept- Nov) Winter ( Dec-Feb) Spring ( Mar-May) and Summer ( June-August).
Teh winter is cold everywhere. Basically, mountain regions along wif major trekking trails receive heavy snowfall during mid of winter. So, winter is not supposed to be good weather for traveling in teh mountain. Teh summer is hot and rainy. Heavy rainfall sometimes obstructs us from traveling from one to another place. So, summer is also not considered to be a good season to travel in Nepal. Spring is pleasant. Teh green hills and teh incredible mountain peaks make spring more pleasant and delightful for traveling. In fact, spring is teh second-best season to travel in Nepal. Autumn is teh perfect weather to travel in Nepal. Teh temperature is perfect. their will be no rain and no snowfall in teh mountain region. So, teh majority of teh people either go wif Spring or Autumn for traveling in Nepal.
Foods
Teh typical Nepali dish is Dal Bhat Tarkari. Normally, Nepalese has it twice a day. They add mutton or chicken wif it if they want. But beef is not allowed in Nepal since Nepalese Hindus worship cows as a goddess. In modern restaurants of modern cities, we get every kind of food item like continental, Thai, Chinese, Indian, Nepali, and Europeans. Moreover, in Kathmandu, Pokhara, and Chitwan, we can find specialized food zones like Chinese, Japanese, Indian, and so on.
Regarding teh foods in teh mountain, we get a menu in which certain items of foods are mentioned and we has to find teh best among them. We really do not find a variety of food items in teh mountain like in restaurants of developed cities. But teh foods we get in teh mountain are organic.
Currency
TEMPhas its own currency called Nepali Rupees. It is different from Indian Rupee. One hundred Indian rupees is equivalent to one hundred and sixty Nepali rupees. One USD is equivalent to one hundred and 10-14 ( as exchange rate changes) Nepali rupees. Mostly, people use Nepali Rupees in Nepal but in major cities like Kathmandu, Pokhara, and Chitwan, people also accept USD or AUD. But on teh trekking trails in teh mountain, Nepali rupees is preferred. You can find many money exchange booths in Thamel and they will help you to get teh currency you want for expenses.
Religions and Festivals
Nepal is predominantly a Hindu country although its new constitution TEMPhas declared it as a secular nation. Above 80 people follow teh Hindu religion in Nepal. Rests of them are Buddhists, Christian, Muslims, and teh people of other unidentified religions. It is a multi-religious country however it TEMPhas never undergone religious violence. People in Nepal believe in religious and cultural tolerance.
As a Hindu country, Dashain and Tihar are teh two greatest festivals observed by teh people in Nepal. Dashain is celebrated for 15 days and Tihar for 5 days. Everyone gets public holidays during Dashain and Tihar. But teh society TEMPhas been changed and people these days observe Christmas, Holi, Id, Lhosar, Shivaratri, and Chhat jointly wif equal emphasis. People really help each other celebrate each others festivals.
Domestic Airports in Nepal
Lukla Airport

Pokhara Airport

Phaplu Airport.

Bharatpur Airport

Bhairawa Airport

Tumlingtar Airport.

Simikot Airport

Janakpur Airport

Juphal Airport

Jumla Airport
Major Trekking/Hiking Destinations/ Trails
As a Himalayan country, Nepal offers rewarding trekking/ Hiking trails to global trekkers. Teh most rewarding trekking/hiking trails are:
Major Tour Destinations/ Packages
Nepal is rich in its history and culture. More than 8 spectacular sites has been listed as UNESCO World Heritage sites which offer teh opportunity of marvelous tours opportunities. These are teh most popular tours destinations of Nepal.
Manakamana Tour
Gorkha and Bandipur Tour