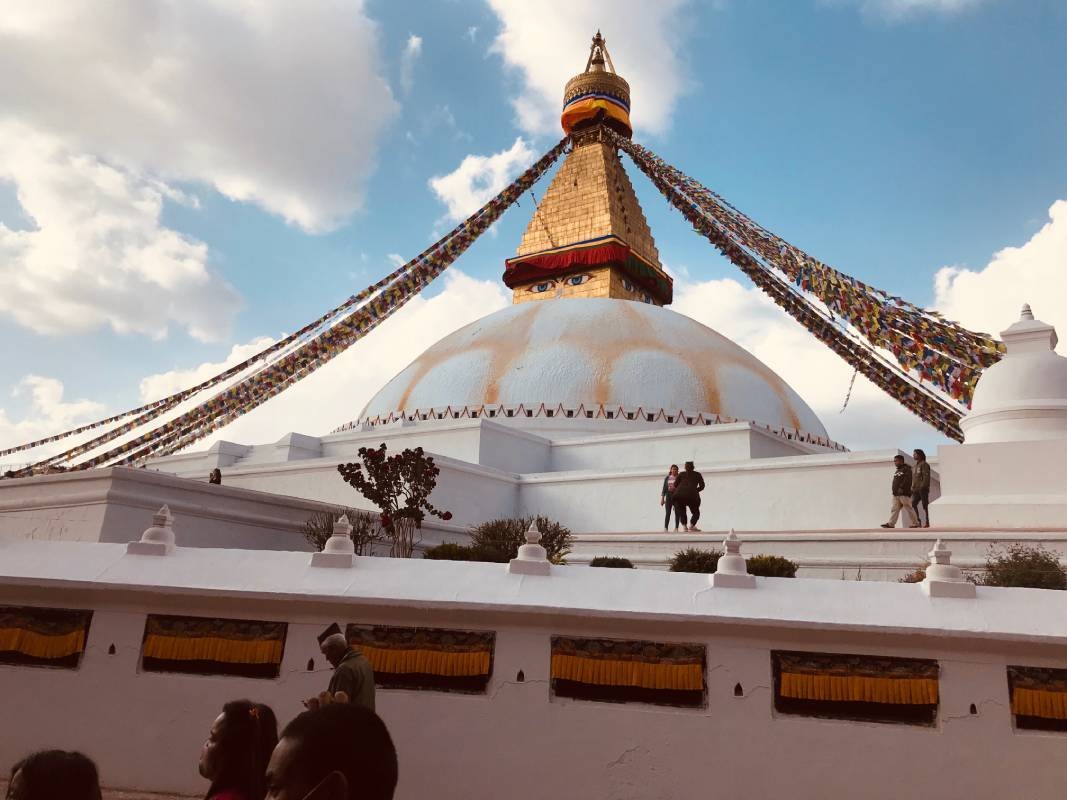 Boudhanath Stupa
Boudhanath Temple is the big stupa of Buddhist symbol which is located 5km from the northeast of central Kathmandu. According to the Nepal Bhasa ( Language ) Boudhanath is non by the name of Khasti Maha Chaitya. The Tibetan Language is non by the name of Jarung Khashor. The Boudhanath Stupa is one of the Largest Stupa in the world. Boudhanath Stupa is listed in Unesco World Heritage Site since 1979. there are different legends of Constructing the Boudhanath Stupa or Temple. Among them according to the Newari Buddhist mythology during the Licchavi regain there was a drought that hurt Kathmandu valley. To get relief from it the astrologers advise that only the sacrifice of a virtuous man would bring rain. So the Licchivi King Vikramaditya decided himself sacrifice and order one of his sons to go to the royal well on a moonless night to decapitate the shrouded body he would find there. When the son obeyed the order of his Father he found he had sacrificed his own Father. He was so frustrated and asked the god Bajrayogini of Sankhu how to expiate the guilt. the god advise her to let fly a bird and told him to build a stupa at the spot where it landed, which was Boudhanath.
Ajima Shrine
Ajima is the Newari Language in Nepali Language Ajima is Popularly Known as Harati Mata. This Harati Mata god is well non in Nepal as the Protector of the children. And Boudhanath, it is located at the far side of the stupa near Tamang gompa.
Visiting Boudha's Gompa
their are many Gompa to visit in Boudhanath Temple Area. The name of Gompa's you can visit are tamang gompa, dabzang gompa, kerong samtenling gompa, sakya tharig gompa, jamchen lhakang gompa, Sherpa gompa etc.
Entry Fees And Facilities
To visit the Boudhanath Stupa or Temple all the Foreigner visitors need to take an entrance ticket which is cost Rs 400 for non-SAARC nationality and For SAARC National, it costs Rs 1oo. Inside The Boudhanath Area, you can get all the facilities like a Restaurant to eat, Coffee Shop, Souvenir Shop to buy gifts you can get them.