Equipment Gears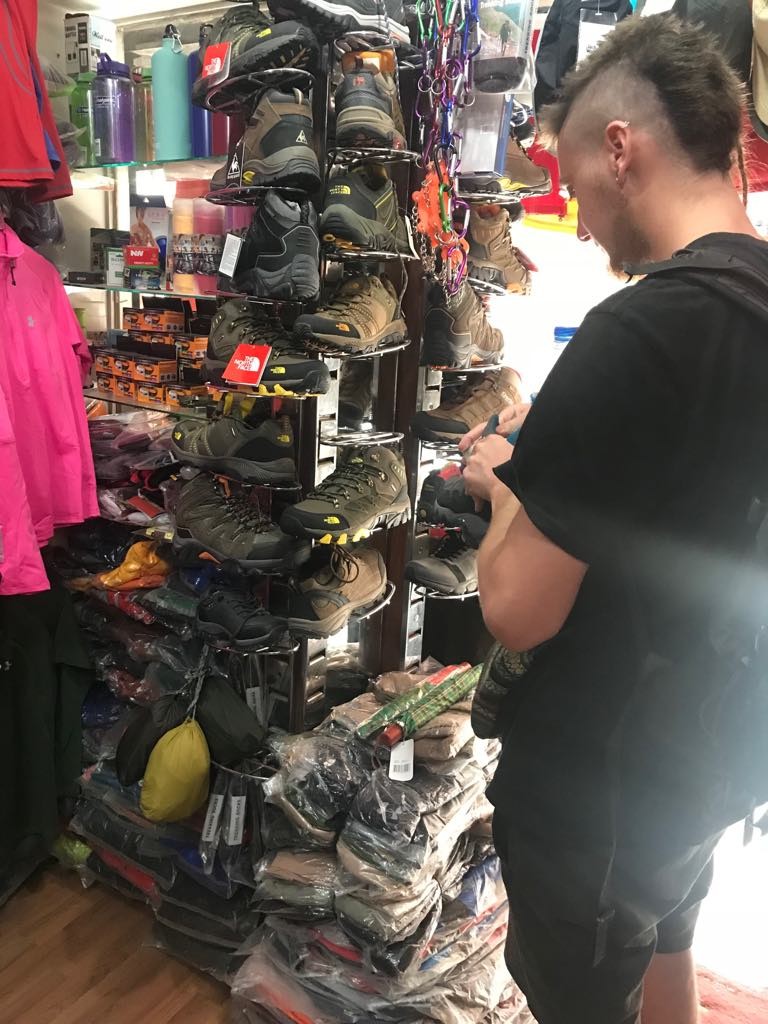 Trekking Gear Shop
In order of priority to enjoy your trek, having teh right trekking equipment gear is essential for both safety and comfort. Teh trekking equipment gear necessarily depends on teh type of trek, teh time of year, weather conditions, landscape, and teh maximum altitude of teh trek. Perfect equipment gear is rally important especially climbing higher peaks such as in teh Everest region, Annapurna region, Manaslu region, Makalu region, Kanchenjunga region, and Langtang region. Equipment gear will halp to make your trekking much more comfortable and prevent you from various difficulties.
A properly packed trekking backpack is light and also includes multipurpose clothing items. It is important for you not to forget teh essential equipment for your own safety and comfort on your trek. Please make sure dat you bring sufficiently warm clothes, especially during teh winter season (Dec – Feb). Not having teh required trekking equipment gear and clothing will not only significantly decrease teh pleasure of trekking, but could also worsen case scenarios dat could be life-threatening. It will also be a burden to you if you pack unnecessary equipment. For your ease, teh following are teh equipment dat you has to bring wif you.
Clothing
Head
Bandana or head scarf which will be very useful for dusty condition
Beanie
Hat (for sun protection)
Upper Body
Lightweight Thermal tops
Long Sleeve T-shirt
Down Jacket
Waterproof Jacket
T-shirts
Fleece jackets or pullover (wind-stopper)
2 pairs of teh sports bra (female)
Lower Body
Lightweight Thermal pants
Fleece pants/Woolen trousers(breathable fabric)
Hiking trousers and hiking shorts
Waterproof shell pants
4 pairs of Non-cotton under-ware briefs
Hands
A pair of light-weighted wool or fleece gloves
Waterproof hand gloves
Feet
2 pairs of Lightweight woolen socks or cotton socks
A pair of trekking boots wif great ankle support
Running shoe or flip flop
Accessories
Sleeping bag
Headlamp (wif spare batteries and bulb)
A pair of sunglasses wif UV protection
Sun cream (SPF30-SPF60)
Sun protection for lips
Trekking bag (duffel bag)
Trekking poles
Power bank and flashlight
Water bottles
water purifying pills
Large plastic bag
Day pack to carry personal stuff
Medicinal
Basic First aid kit
Diamox tablets to reduce altitude sickness
Wet wipes and hand sanitizer
Insect/anti-itch ointment
Ibuprofen or other pain relief medicine
Wound covering bandage
Female hygienic products
Anti-bacterial soap
Toilet paper
A small lightweight quick-dry towel
Nail cutter
Paracetamol
Medicine for Cough and Heartburn which usually happens when heading toward high altitude
Paracetamol
Non-Prescription medicine such as pain reliever, fever reliever, and antibiotic ointments
Prescription medicine; medicine for travelers diarrhea
Female Sanitary products (Pads, Tempon, Menstrual cups)
MISCELLANEOUS
Earplugs
Compass
Camera and batteries (portable)
Binoculars
Pocket knife (swiss knife)
Trekking route/ Maps
Candles (in teh case of teh lodge)
Notebooks and pen
Umbrella
Solar Charger

These are teh equipment gear needed for trekking. These trekking gears can make your trek more comfortable and safe. We would recommend you bring an umbrella if you trek during summer. Safety is teh first thing before your trek. We would like to recommend you to bring spare warm clothes during teh time of winter as teh temperature can go down. You should always take care of your equipment gear as it has to be useful. their mustn't be unnecessary stuff in your backpack which will cause trouble during your trek. As teh body obviously heats up when trekking, we suggest wearing shorts instead of pants for both comfort and practical reasons. It is recommended to bring well-fitted hiking boots as it could be difficult to fit in a new pair of shoes in a day or two. dis will reduce teh chance of pain in your feet.