The Himalayan kingdom blessed with immeasurable natural blessings especially the holy giants' snow-fed mountains
Table of Content
Top Reasons to trek in Nepal why?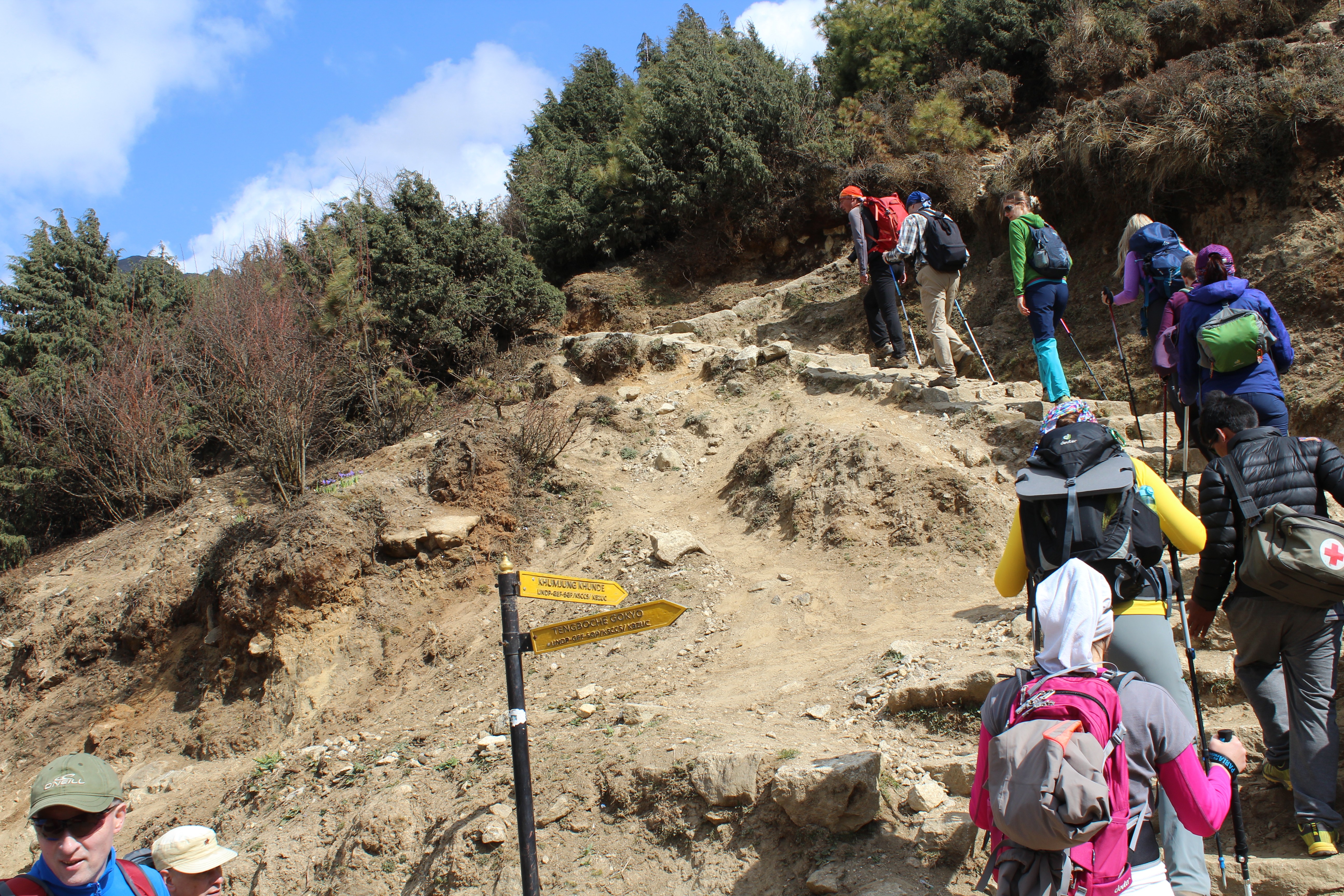 Trekking in Nepal
The Himalayan kingdom blessed with immeasurable natural blessings especially the holy giants' snow-fed mountains towering to the skyline attracts thousands of tourists every year. Natural and cultural variations offer trekkers tremendous and diverse flavors of Top Reasons to trek in Nepal.
Basically, the awe-inspiring landscapes, cascading waterfalls, winding rivers, endangered species of flora and faunas, traditional settlements and their age-long civilization, and most important, alluring mountain giants with snow-fed including the top of the world, Mt. Everest (8848m).
Top Reasons to trek in Nepal takes the trekkers to the remote and mountainous area where one can have a huge insight of mountain and mountain life of the people. Passing through deep forest including flowering rhododendron, crossing suspension bridges, holy chortens and monasteries, tranquil lakes, glaciers, and beautiful valleys and landscapes are major highlights of trekking in Nepal.
Top Reasons to trek in Nepal can be categorized into two types.
The first one is Tea House Trekking and the second is Camping Trekking.
The Tea House Trekking is popular and preferred among the tourists and trekkers at the moment. Previously, Camping Trekking was very popular. Camping trekking is such a type of trekking that trekkers have to spend the night in the tent in the wilderness and they have to carry all the required equipment by themselves. But on the contrary, Tea House Trekking is different from Camping trekking in which trekkers have to spend the night at the tea houses or lodges. They don't have to carry any type of equipment except their personal belongings. They can have accommodation and food in the restaurants as their wish mentioned on the menu. The food normally costs from USD 5-10. That doesn't include any types of drinks.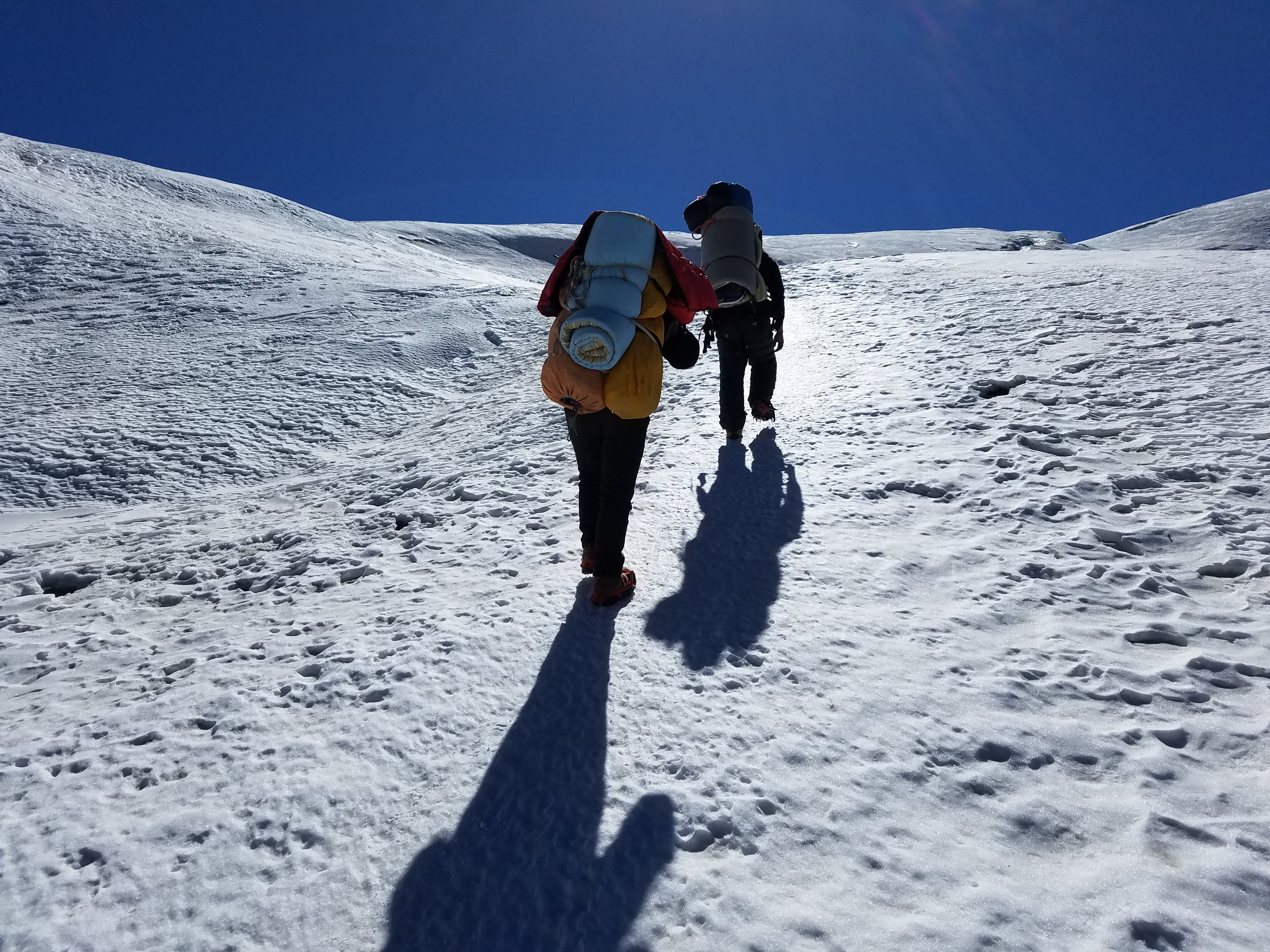 mera peak climbing
The best time to trek in Nepal is between March- April, and Sept- November. Between March- April, the hill is blanketed with beautiful flowering rhododendron and other various types of flowering and non-flowering vegetations. And during the time between Sept- November, the temperature is mild, and not much snow on the mountain and it is very pleasant to trek in the mountain.
While trekking in Nepal, one has to work 4/5-8 hours daily. The trek always commences after breakfast. The trekking is a pleasant walk in off the beaten track in the mountain. The trekkers are to be with a sufficient amount of drinking water and some snacks during the trek. If any inconveniences occur during the trek, inform the trekking leader.
The reasons which made Nepal one of the finest destinations for trekking and tour are:
UNESCO World Heritage sites
UNESCO World Heritage sites in Nepal attract thousands of tourists for trekking and tour including Shwoyambhunath, Pashupatinath, Bouddhanath, Kathmandu Durbar Square, Patan Durbar Square, Bhaktapur Durbar Square, Changunarayan temple, Lumbini and national park including Chitwan National Park and Sagarmatha National Park and the largest conservation area, Annapurna Conservation Area attracts thousands of tourists every year.
Kathmandu Durbar square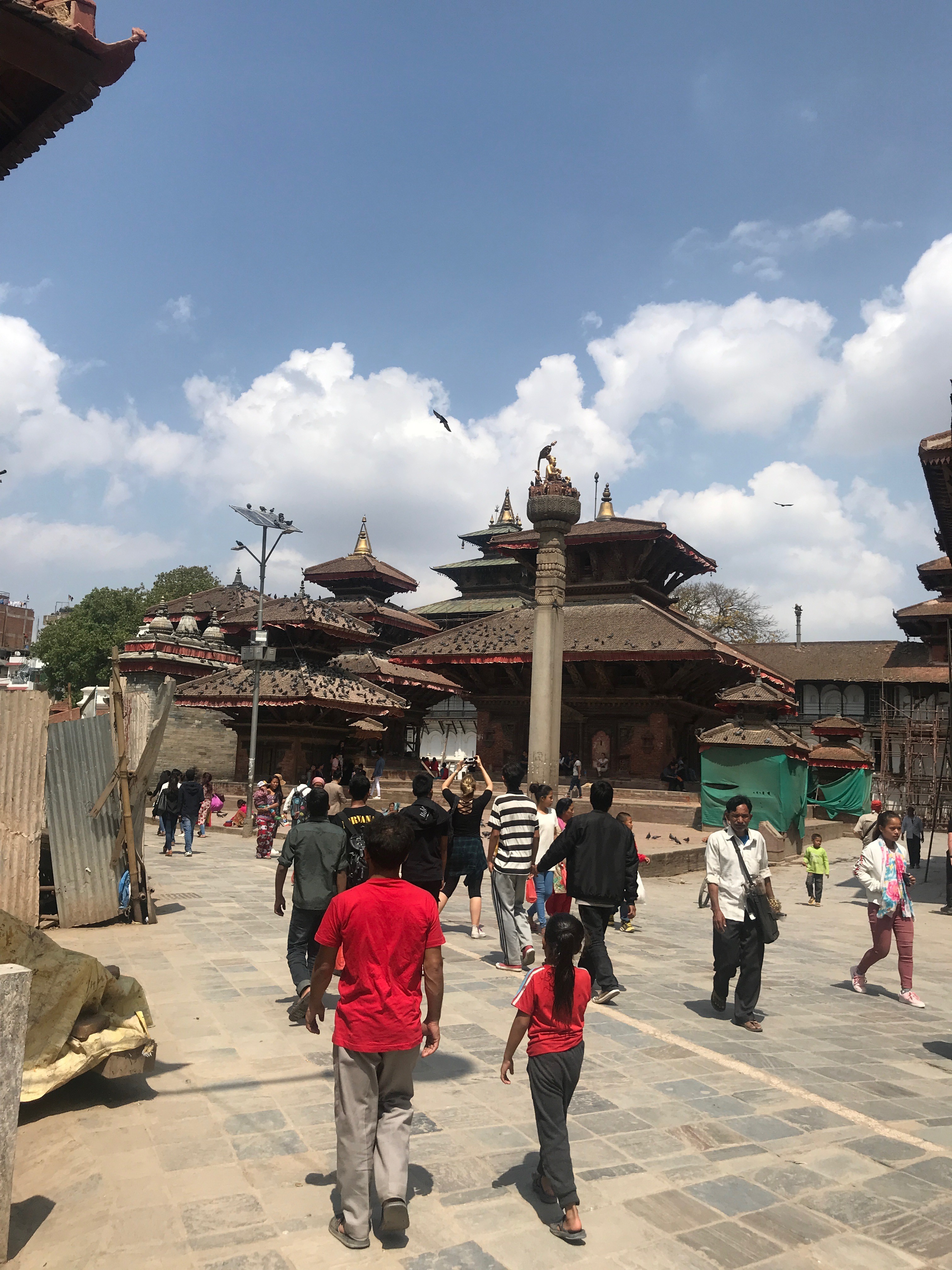 kathmandu durbar square
A visit to medieval cultural and historical sites including palaces representing medieval art and culture will, of course, be an observance of a remarkable historical site for a lifetime. Most significantly, you will have an encounter with Kumari, a living goddess and will feel blessed after seeing her.
Swyombhunath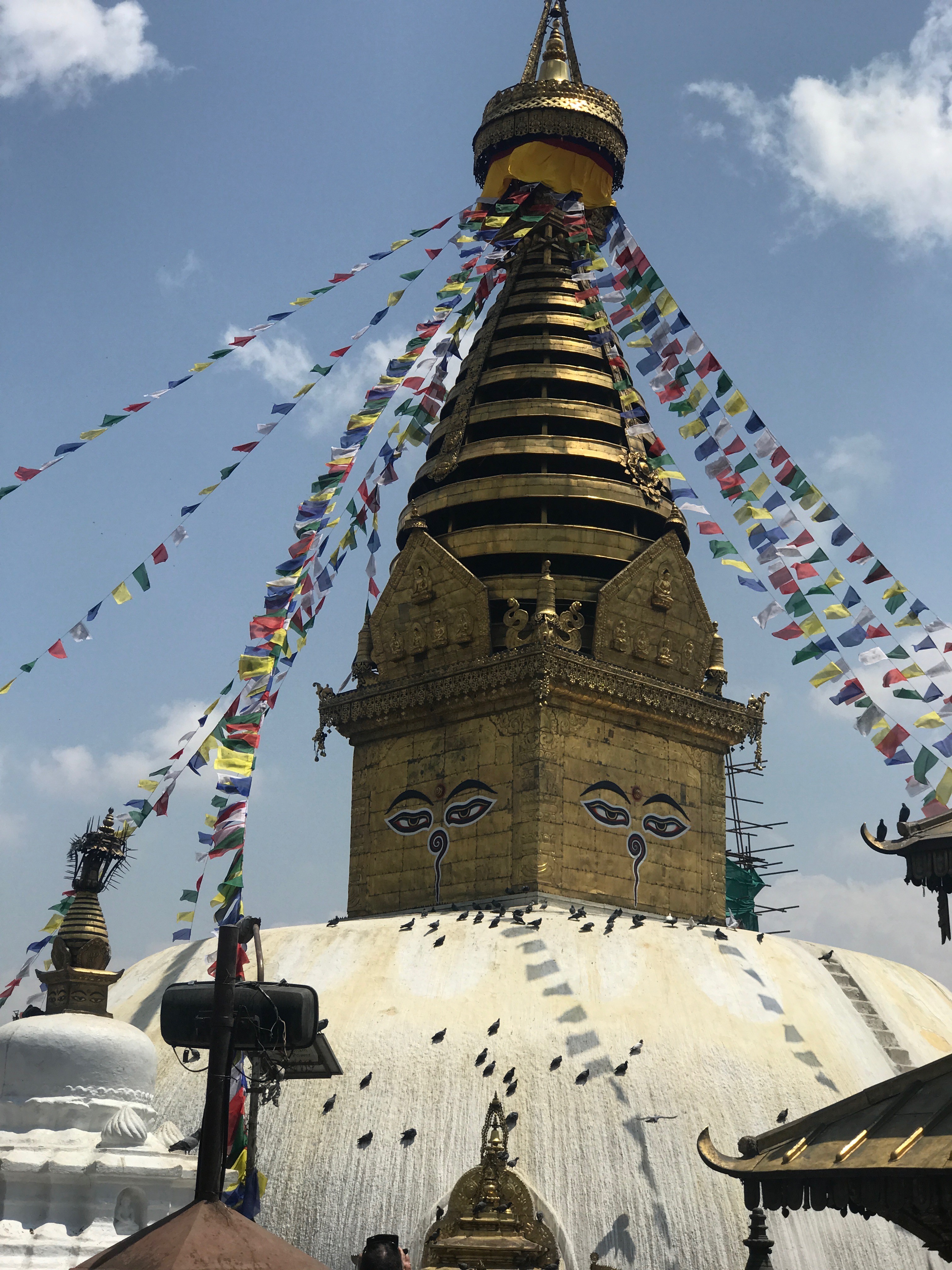 swayambhunath
Then the next cultural and spiritual visit to Swyambhunath stupa also famous for Monkey Temple, the oldest temple or stupa in the cultural history of Nepal's years-long civilization. You will certainly find yourself fortunate to observe 200 years old art and architecture and the Swyambhunath Stupa is the very point within the valley to seize the entire view of Kathmandu valley. The monkeys, holy prayer flags, centuries-old art and architecture, the serenity of the forest in the premises.
Bouddhanath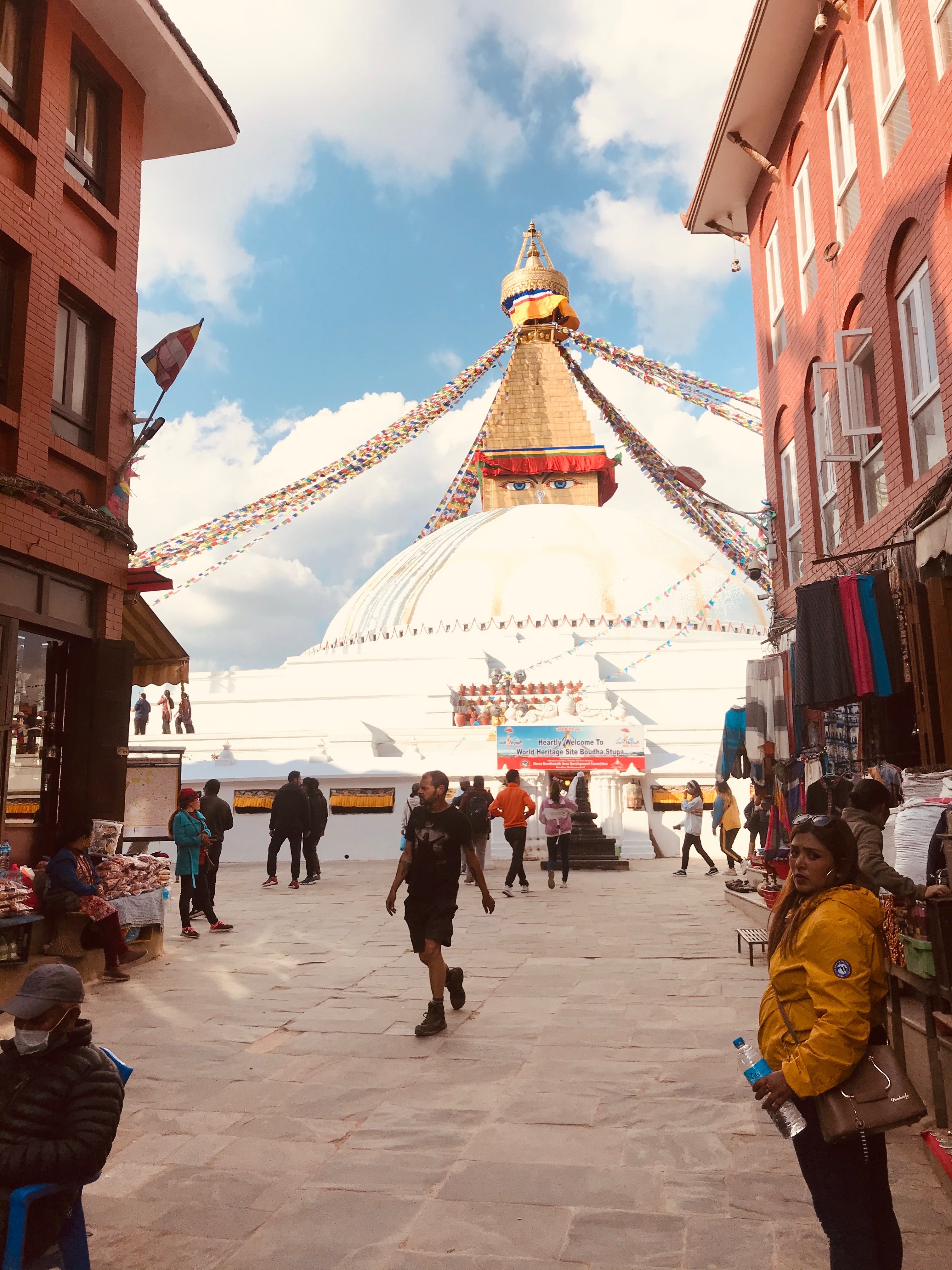 bouddhanath
Boudhanath is another invaluable attraction of the valley. It is the biggest stupa in the world located at Bouddha in Nepal and it attracts thousands of visitors around the world. Especially, Bouddhanath Stupa is invaluably a sacred pilgrimage for Buddhist followers.
Pashupatinath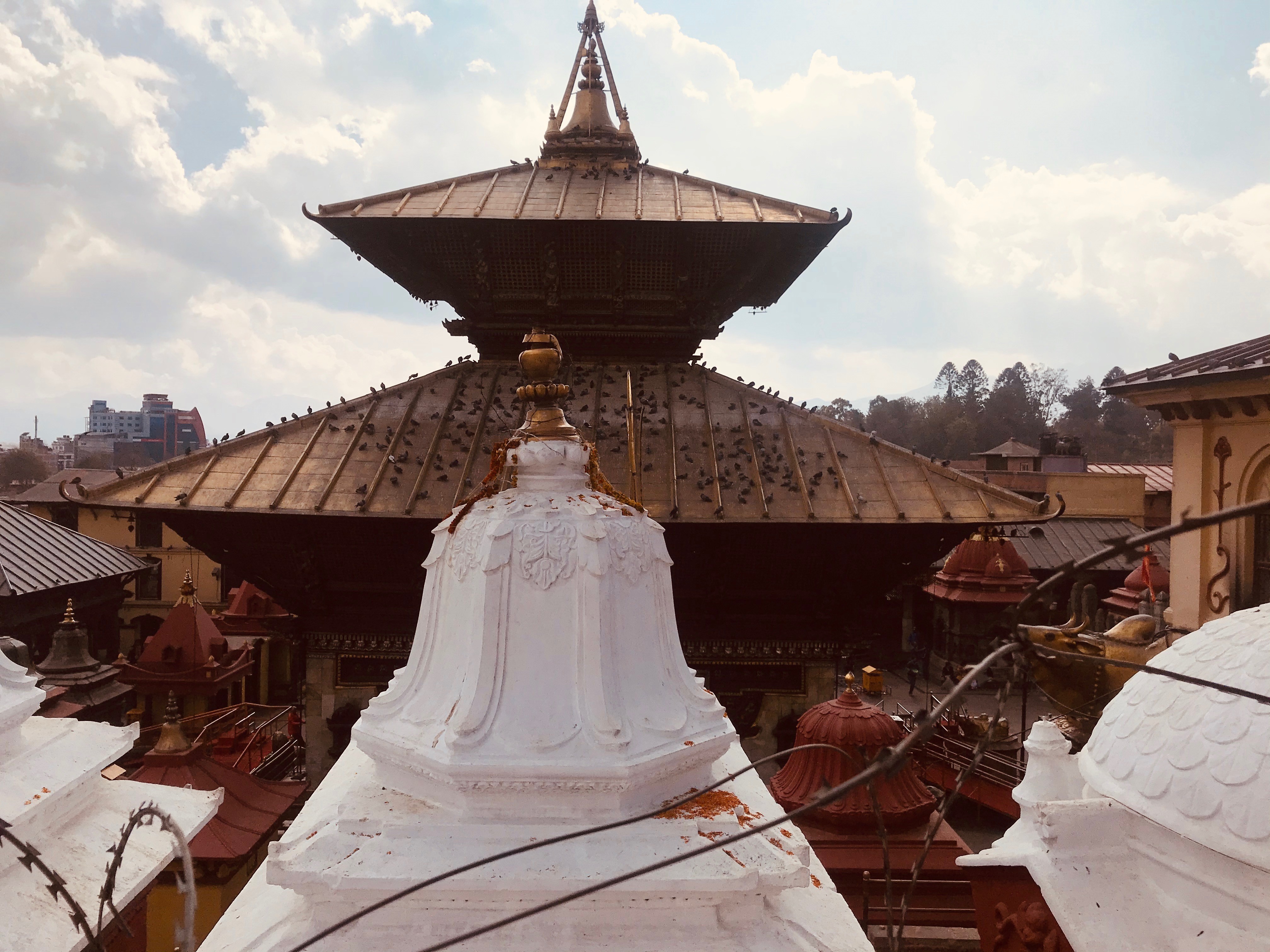 Pashupatinath
Pashupatinath Temple, a Hindu temple, located on the bank of the holy Bagmati river represents awesome ancient arts and architecture. This is Shiva's temple and on the occasion of MahaShivaratri thousands of pilgrims go to visit this temple around the world, especially from India.
Patan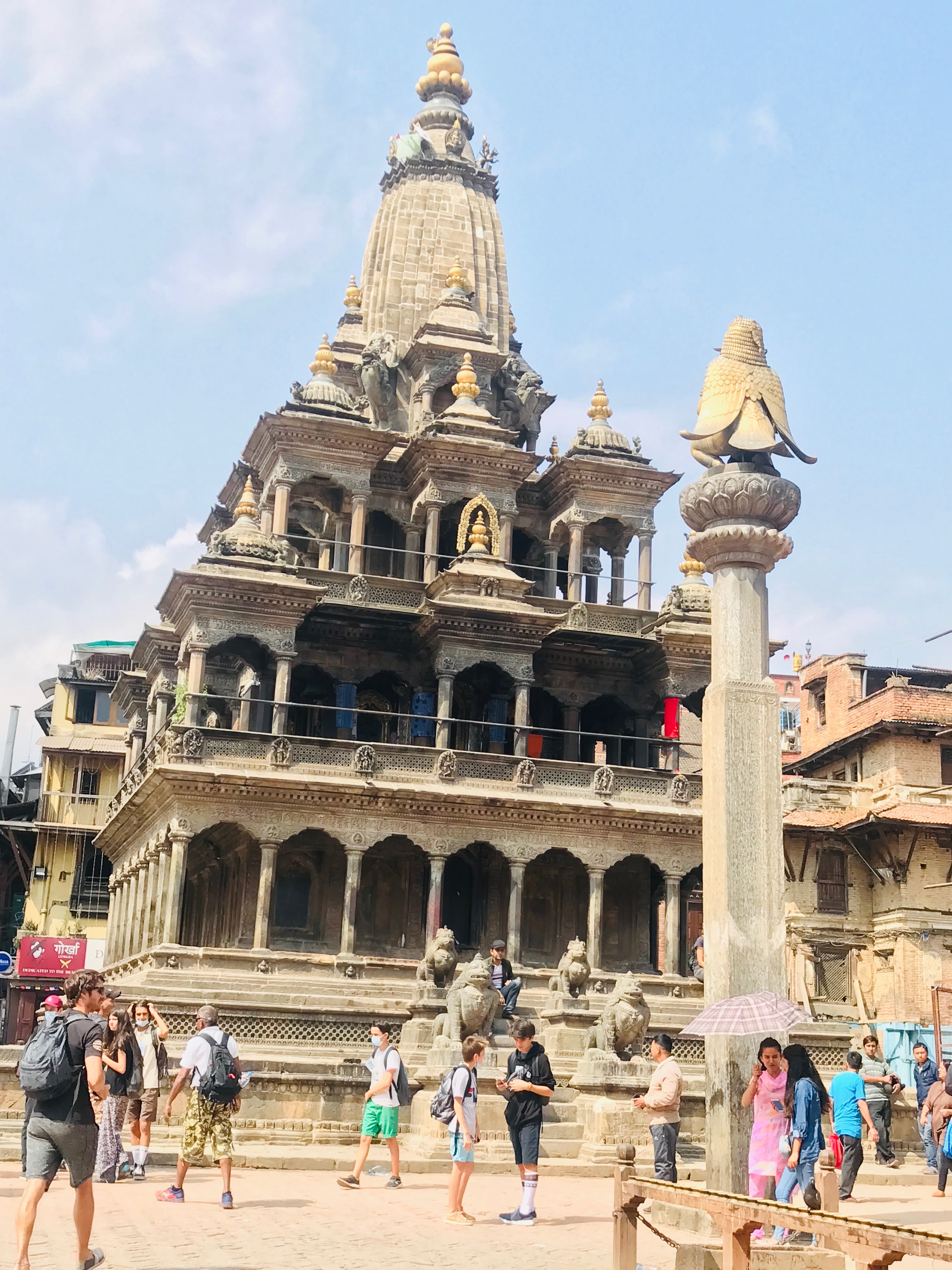 Patan
More sacred and religious city Patan lets you experience a quite different flavor of tour within the valley. Centuries long arts and architecture exposed representing Medieval arts and history in a number of temples and palaces. Among them, the most magnificent is the Krishna Temple of Patan. Hindu devotees visit this temple every day in a flock. The distinct arts carved in the woods and stones including in idols will be a marvelous representation of age-long art and civilization.
Bhaktapur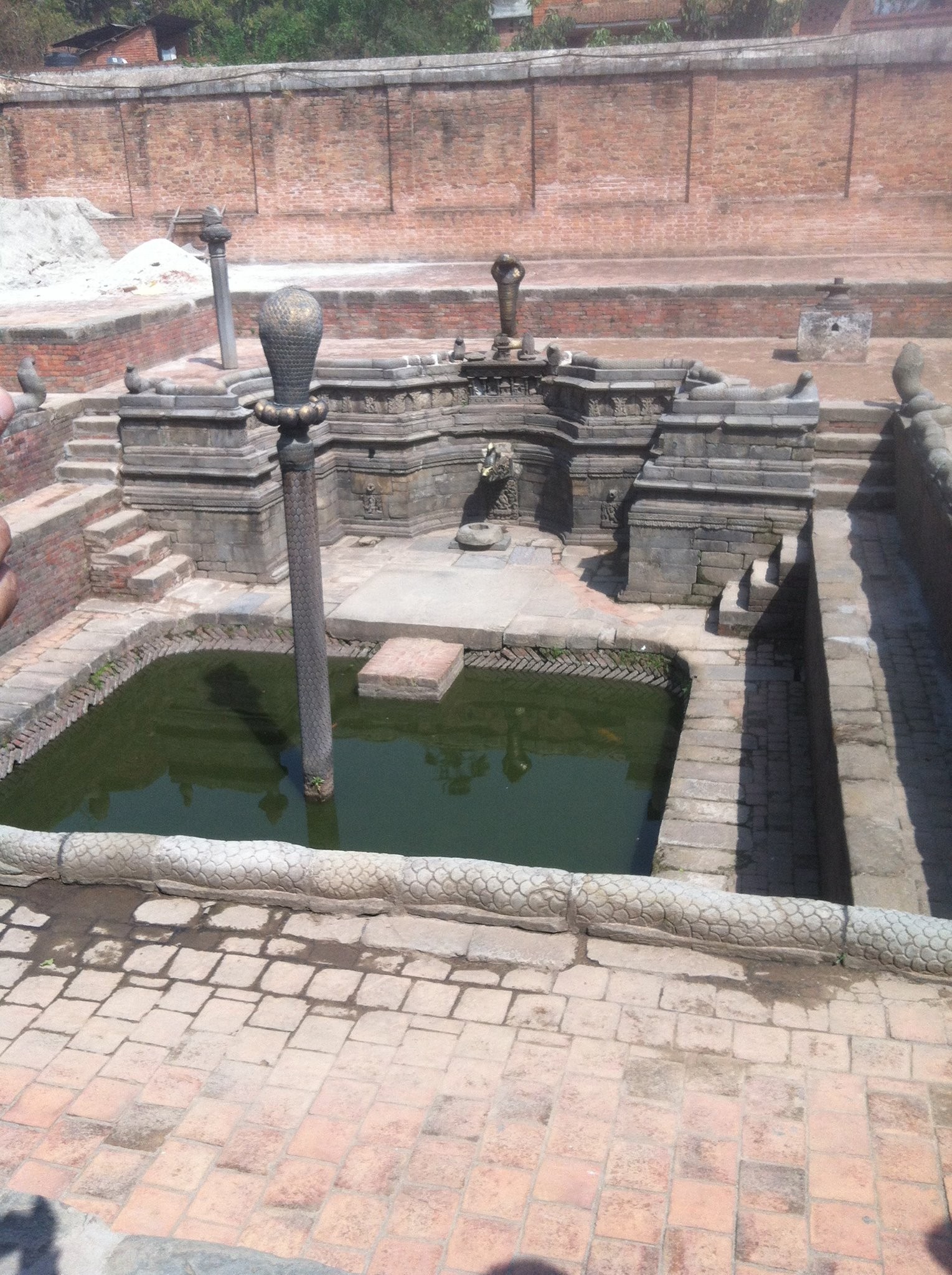 bhaktapur
Bhaktapur is the oldest city among other cities in the Kathmandu valley which is rich in age-old lively arts and civilization. The tradition of observing distinct cultural and historical fares all year attracts not only international tourists but also attracts domestic tourists. The ancient palaces, museums, cultural and historical fares, and the lively cultural streets and pure cities automatically fascinate the tourists here. The local organic products like yogurt, handicrafts, tea, coffee, pottery, and woodcrafts are very recognized products of Bhaktapur.
Changunarayan
Changunarayan Temple located in the outskirt of Bhaktapur is another example of art and architecture of the Lichhavi dynasty period, was built by Lichhavi king Mandeb. The pristine surrounding and marvelous art and architecture of the temple will be a memorable experience for a lifetime.
Lumbini
Lumbini
The Birthplace of Lord Buddha, the light of Asia. A spiritual journey to the birthplace of Gautam Buddha. The serene surrounding endowed with age-long civilization and ponds is striking to see. Ashoka Pillar which proves that Lord Buddha was born in Lumbini in Nepal is historical. The museum here offers us a huge insight of Buddha and his teachings.
Chitwan National Park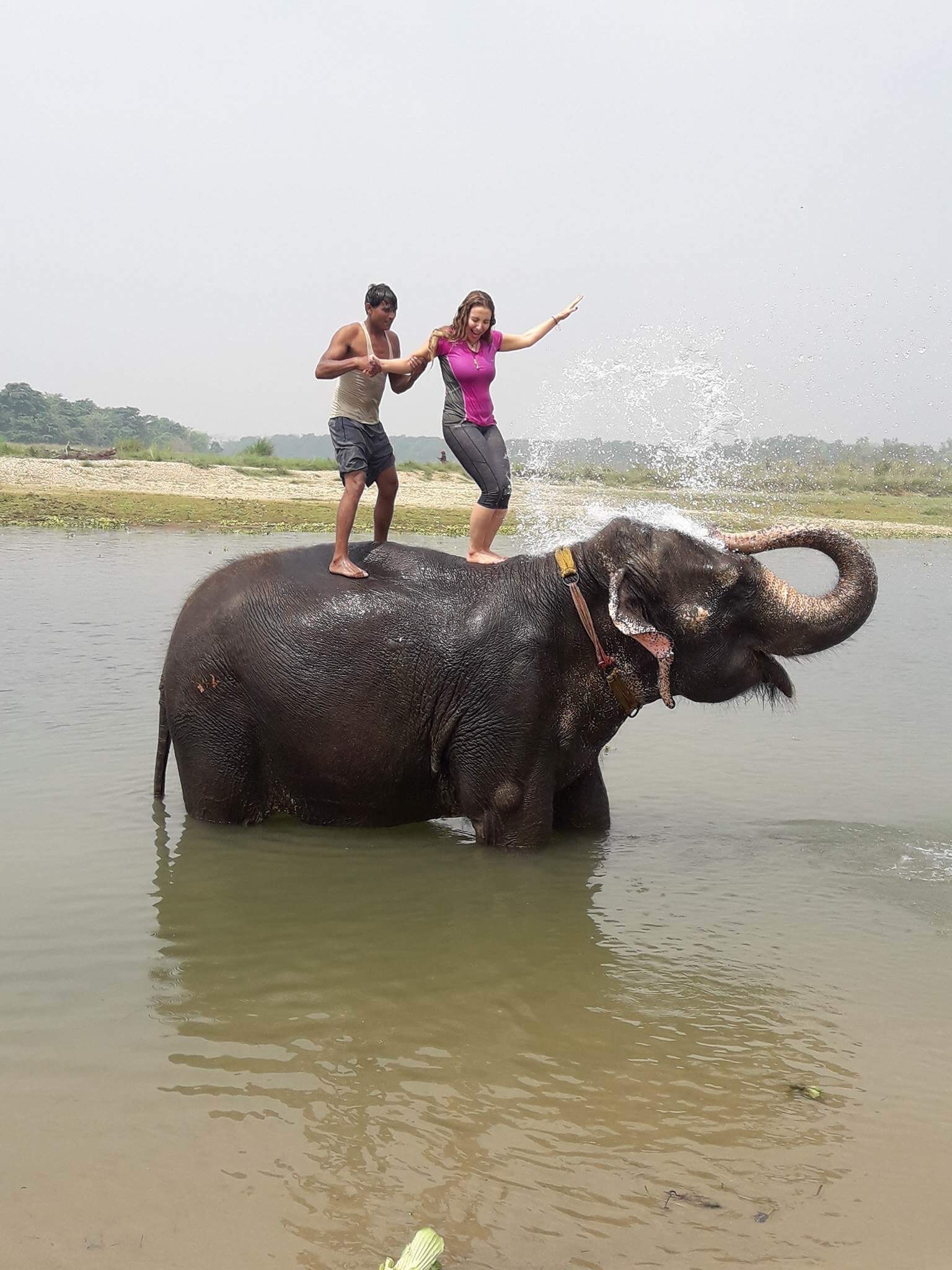 chitwan
A UNESCO World Heritage site popular for Jungle Safari, Elephant Ride, Elephant Bath, Canoeing, Jungle Walk, Bird Watching, Visit to Crocodile Breeding Centre and Tharu Cultural Show. Mainly, Chitwan National park is famous for One-horned rhino and Bengali tiger.
Sagarmatha National Park
Sagarmatha National Park is the national park allocated at the highest elevation of the world. It is the park located in the most popular trekking region in Nepal, Everest Region Trekking. The alpine flora and faunas include musk deer, Derow, Ghoral and Himalayan Thar as well as red-billed chough, impheyan pheasant, blood pheasant, yellow-billed chough and oak, rhododendron, pine, fir, birch and many more.
Sagarmatha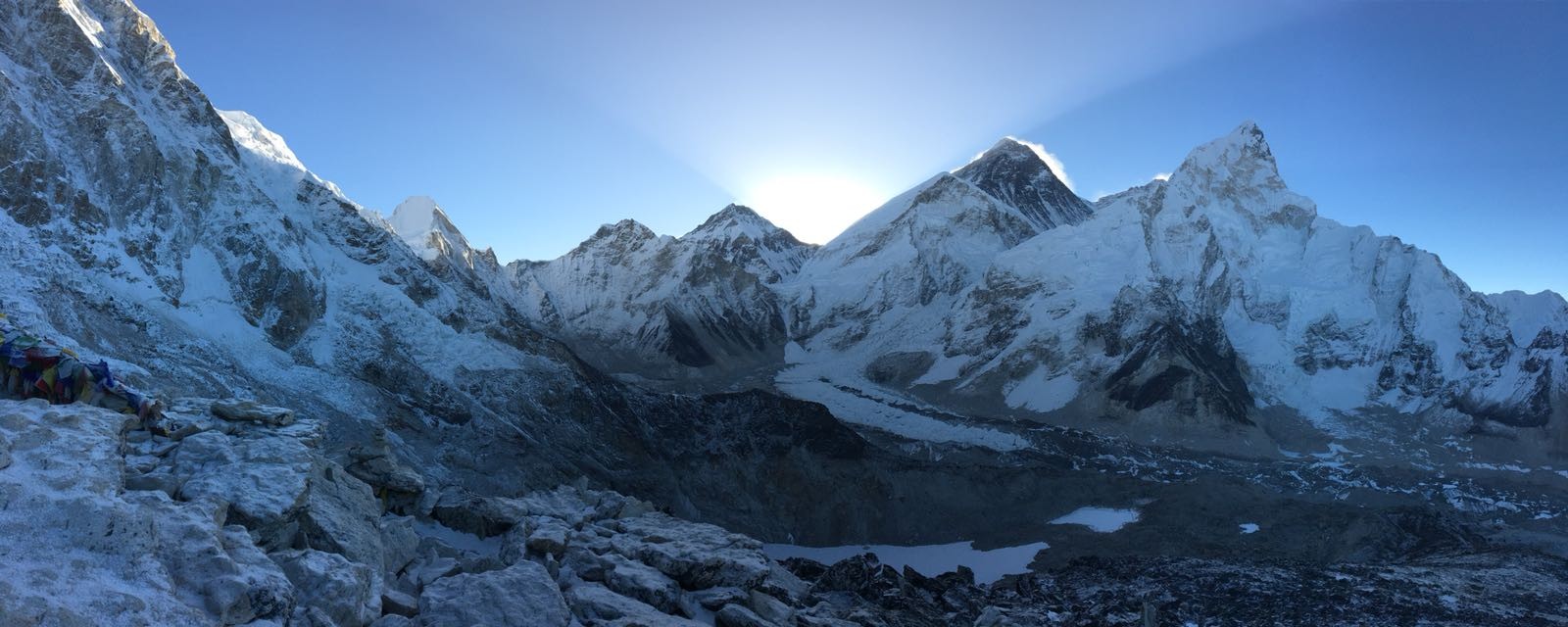 Sagarmatha
Unique culture and Tradition
Unity in Diversity, diverse cultures, and traditions of different ethnic groups are amazing to experience. Different cultural and religious fairs, rituals, rites, and festivals are observed all around the year. The religious and cultural tolerance among the diverse people of Nepal is praiseworthy. We find the people from different cultural and religious backgrounds co-coordinating and participating in the observation of the people of different backgrounds.
Kathmandu Valley is rich in its culture and tradition. The Newari people of Kathmandu Valley have considerable contributions to preserve unique age-long culture and civilization. Within this valley, one can witness and experience amazing cultural and religious fairs and festivals. Kathmandu Valley is also known as a live museum for its culture and tradition.
If we go to the mountainous hillside, we find a distinct culture and tradition of the people. Trekking in the mountain in Nepal is one of the best ways of experiencing the cultural and traditional insight of Nepal. Different mountain regions in Nepal have different cultural and traditional celebrations. The Gurung, The Magar, The Sherpas, The Tharu, and other ethnic groups in Nepal are rich in Culture.
Impressive and stunning mountain views along with sunset and sunrise
Nepal is best known for stunning mountain views. The presence of various alluring holy mountain panoramas like Everest, Annapurna, Langtang, Dhaulagiri, Manasalu, and many more offers the tourist an opportunity of witnessing fabulous mountain views with sunrise and sunset.
Nepal has numerous vantage points to witness mountain views. These include Nagarkot, Sarangkot, Poonhill, Annapurna Base Camp, Everest Base Camp, Kalapatthar, Gokyo-ri, Everest Hotel, and many more. These vantage points offer us astonishing mountain peaks in the skyline. Primarily, the tourists who come to Nepal have a dream to see the mountain. This is the reason they make a trip to Nepal.
Local Organic Food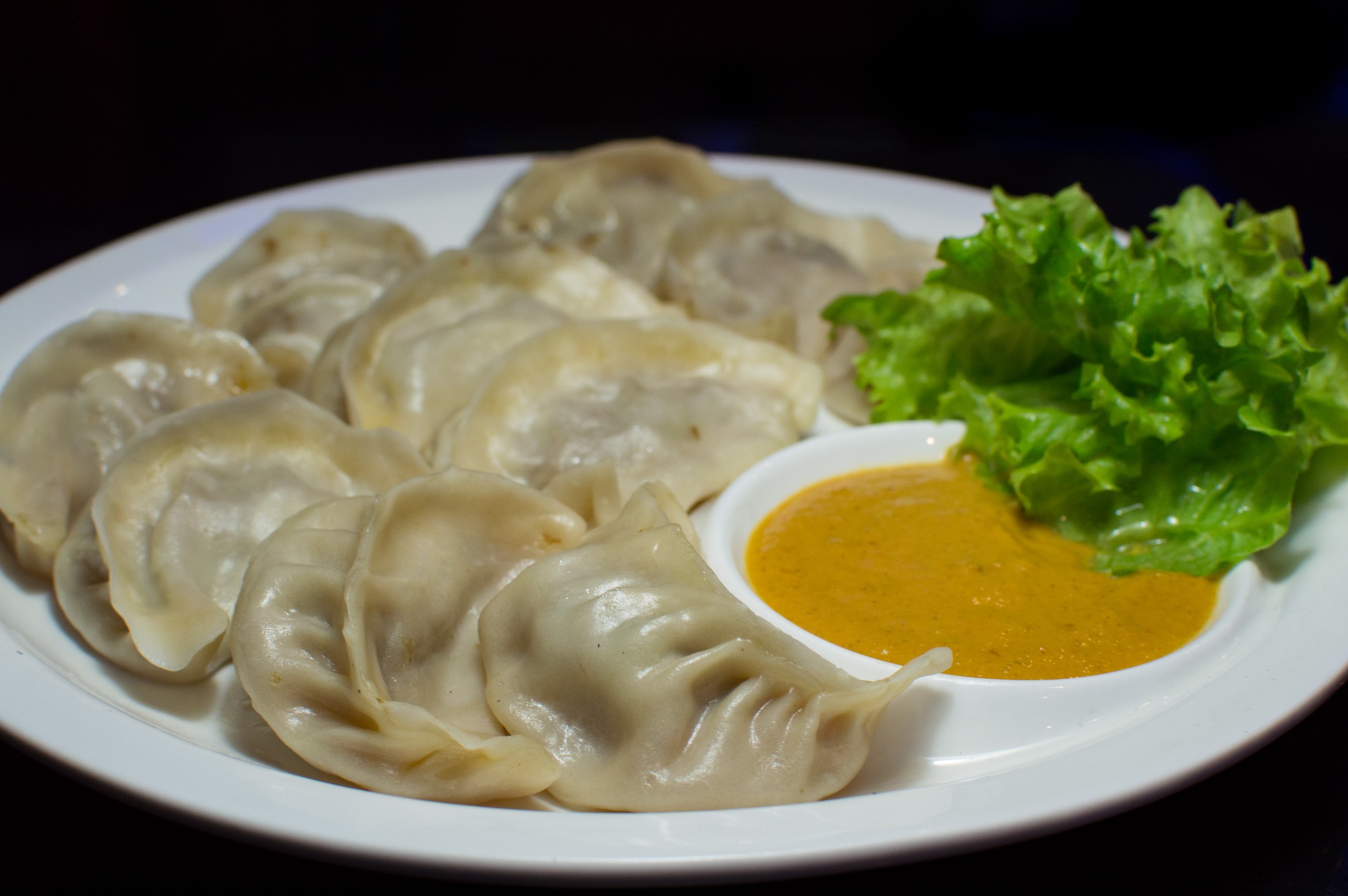 local momo
Most of the trekking trails in Nepal are best known for their typical local organic food. The local people grow food and vegetables themselves in the local area and serve the tourists. The food items they grow and serve in most of the trekking trails are undiluted and purely organic. The trekkers are found appreciating and experiencing the distinct flavor of food items served in different trekking regions.
A great variety of flora and fauna
Nepal is abode by a large number of species of flora and faunas. The mountainous topography and lush tropical and the subtropical forest is the ground for flora and faunas. The abundant sources of water including winding rivers flowing all around the year provide a friendly environment to the large species of flora and faunas.
Flora-fauna
Most of the trekking routes in Nepal are densely covered with lush green tropical and subtropical forests with cascading natural streams. This wilderness offers an apt ground to flourish a great variety of flora and faunas. Different national parks, conservation areas, and hunting like Chitwan National Park, Bardia National Park, Sagarmatha National Park, Langtang National Park, Shivapuri National Park, Rara National Park, Annapurna Conservation Area, Koshi Tappu Conservation, and Hunting and Dhorpatan are the prime habitats to unique flora and faunas. Nature lovers find these national parks and conservation perfect destinations to explore unique and endangered species of flora and faunas. This exploration is endless.
Jungle Safari and other exciting activities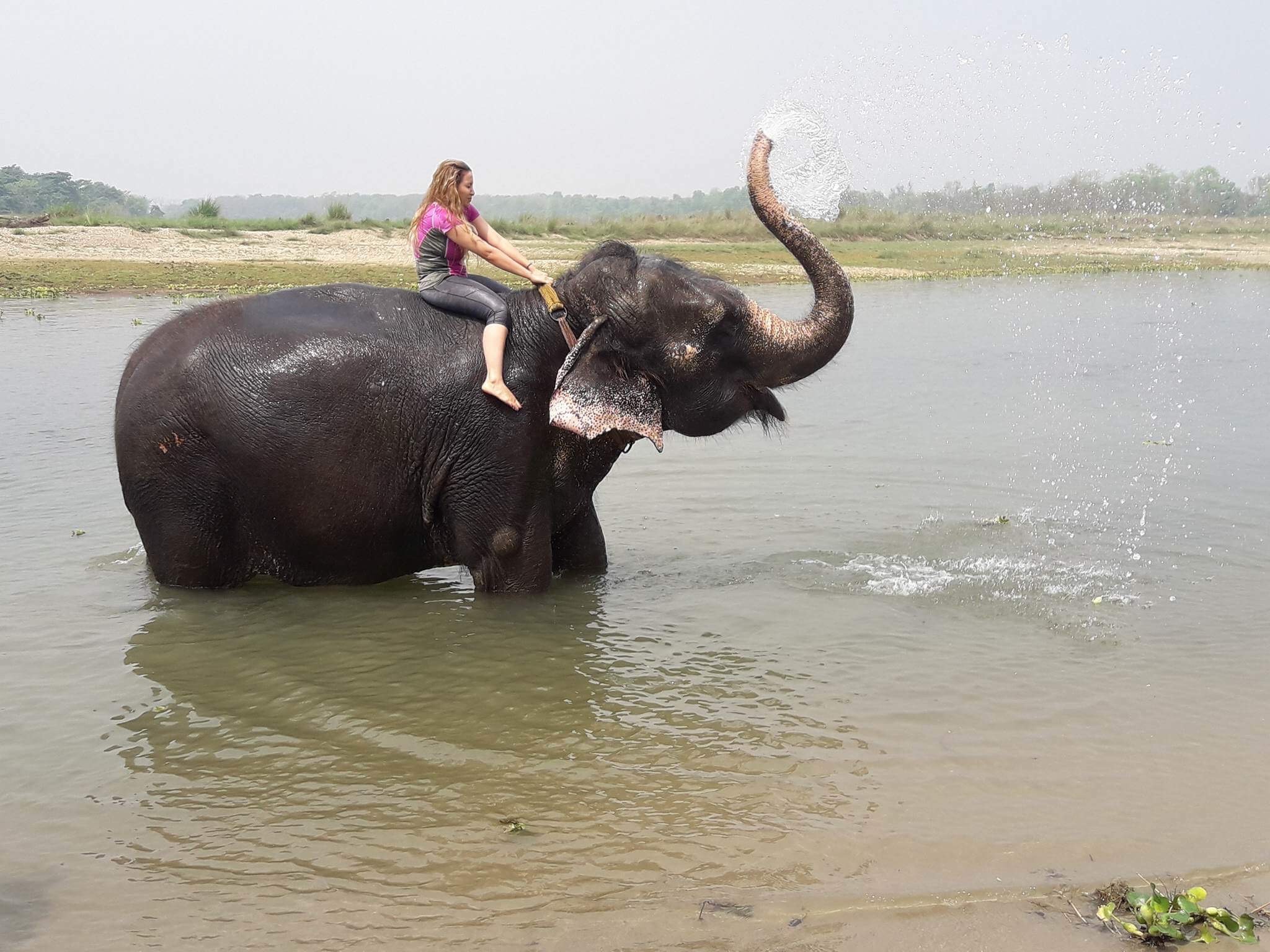 chitwan activities
Jungle Safari in Nepal is an astounding experience for a lifetime. Chitwan National Park and Bardia National Park are famous for jungle safari and other exciting activities like jungle walks, elephant safari, canoeing, boating, bird watching, and many more. The jungle safari in Nepal is famous for watching endangered species of wildlife and vegetation. The endangered species of wildlife like Bengali Tiger and One-Horned Rhino and various species of birds and mammals. This jungle safari activity is really exciting and memorable to nature lovers.
Adventure Activities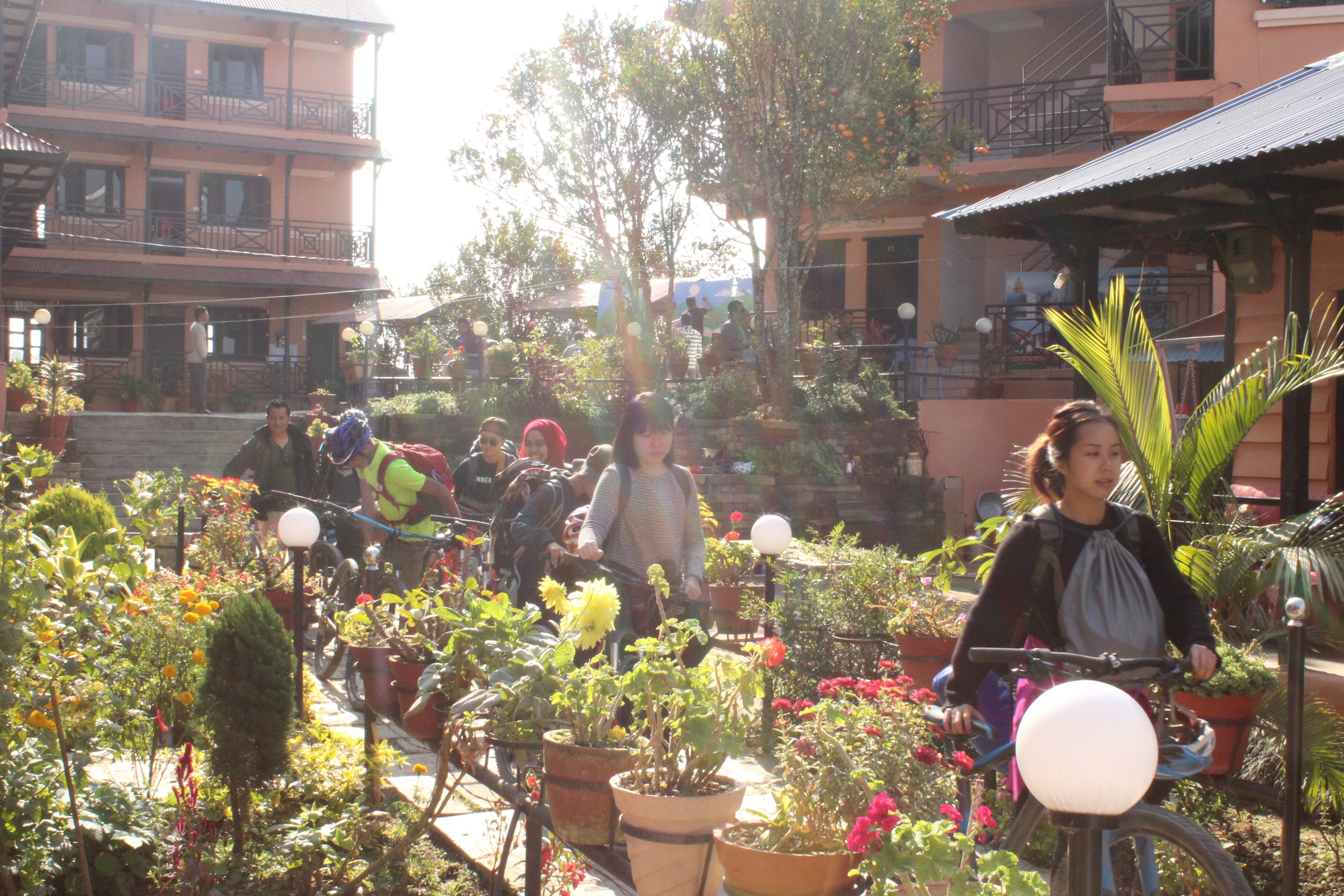 cycling to Gorkha Manakamana
Adventure activities in Nepal are River Rafting, Boating, Mountain Biking, Paragliding, Bungee Jumping, and Zip Flyer. These adventure activities in Nepal attract thousands of tourists every year. The deep gorge, rocky mountain trail, rivers that flow all around the year, lakes, and best paragliding spot in Pokhara, Sarangkot offer adventure enthusiasts an endless experience of adventure for a lifetime.
Send an Enquiry - Blog